I thought I'd participate in a little linky called Insta Friday where you post the pictures from your phone for the week... pretty much, the pictures of our lives!
I finished up several gifts last Saturday for baby showers/birthday parties including this little bag.
This post has a lot of Taryn pictures.... because she is always up to something. Driving with an oven mitt? Check!

Ready for church... stylin' her brother's Texas Rangers hat - backwards, of course.
She put on her swimsuit all by herself.... bottoms & top around the neck. She's ready to swim!
Helping Mom out
My handsome man in uniform! I got to ride along with him be his junior deputy one night this week as part of our Parents Camp.... more on that later!
Bad boys, bad boys, whatcha gonna do when they come for you?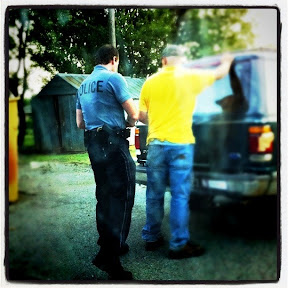 We enjoyed salads poolside as part of our Parents Camp. Parents Camp fed us well...

Taryn decided she's a salsa lover this week. By the end of the meal, she was dipping her fingers in and licking them... yes, she is a Jarnagin!
T wanted to try on her swimsuit so I obliged and put it on over the onesie. She proceeded to find a few accessories to go with it... sunglasses, bracelets, pacifier...
Yes, this book came in the mail today... no, I am not the one reading it.
She goes from girly girl, to tomboy girl sporting her brother's hat, playing with his tools and driving her "car."

Cayson got a few owies - scrapes on his face, elbows, and knees this week thanks to a clumsy fall. He's recovered, thank goodness! Not what he needed since he just got over a nasty rash caused by staph infection from a nasty scrape on his foot. Pretty much, he's covered in scrapes and bruises... the life of a boy!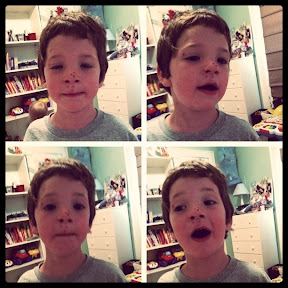 We watched a portion of the car show cruise downtown despite the ridiculously high temps (106 at 7:30 pm). It's crazy hot here!
- Posted using BlogPress from my iPhone