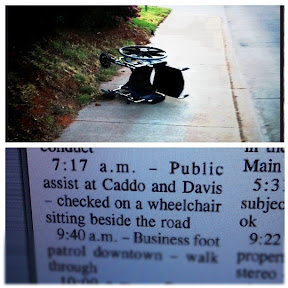 1. This was a site I came across on
one of my morning walks last week. It gave me a good laugh. There is a house a block from here that has medical equipment in the side yard (classy Oklahoma style, I know). This week was band camp at the college so I'm pretty sure some fun loving kids took it for a spin. I got a good laugh out of it.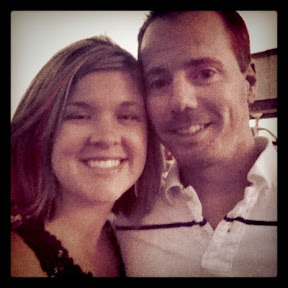 2. Thanks to my parents, Dusty & I got to go on a date last night! It was nice to get away for a few hours to eat out, do a tiny bit of shopping and see a movie. We saw Zookeeper - it was cute! Kevin James is just hilarious as usual!
3. As you know, it's HOT, HOT, HOT here in western Oklahoma right now. Like miserable hot for this summer loving girl! I discovered a makeup primer that keeps my makeup on despite this crazy heat - Urban Decay All Nighter. It keeps it from sliding off my face or melting into oblivion. I know it's a product that has been around but I thought I'd share it since it has become a life saver for me!

4. I found a great recipe for lemonade here! It is amazing! I made a batch today and it is nearly gone. I love her advice to freeze the components so you can always whip some up. Anybody have a juicer I can borrow?

5. Taryn has kept me on my toes this week.... so much, that it probably deserves it's own post. She is doing great at the pacifier weaning. She gets it at naps & bedtime and that is it. She's not nearly as attached to it at bedtime as she used to so hopefully, we can get rid of it all together soon.

6. Cayson is full of questions these days... he even shot the "how did Taryn come out of your belly" question at me this week. Eekk! Sooooo not ready for that! He followed it with a "She came out of your belly button, right?" My answer, "We'll talk about this when you're a little older." I need time to prepare.

7. Another good recipe to share - Cheesy Bacon Chicken. I made this in the CrockPot last week and served it with long grain wild rice and it was a hit. I can't wait to make it again!

8. Our garden is completely cranking out the peppers - I've got to come up with a few recipes to use them up. I've been buying a cantaloupe every week from a local produce stand every week. I've always hated cutting them up. It's just so complicated to me... I used to always make Dusty do it but this summer I have started cutting them up myself. Accomplishment, right? Lol. Anyway, if you are local - the produce stand downtown (open Tues & Fri until 1 pm) has awesome cantaloupes!

I guess that's all for tonight! Hope everyone has a great week!